Many rituals end with a drink from the Chalice. The Chalice or Goblet, may be used to represent the element water on the Altar and the design and complexity is a matter of personal choice. Some people favour the natural pottery goblets, crafted in time honoured ways, wheras some prefer a silver plated chalice with a simple pagan symbol such as a Pentagram or Triple Moon engraved on it. the Chalice crafted from both brass and silver plate represnts the duality of the God and the Goddess.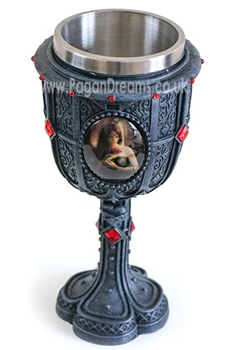 £11.03 incl tax
£15.76 incl tax
A lovely slate-effect goblet with a picture inset into the cup. The artwork is by Anne Stokes and features a young angel, wings folded close around her body, bearing a single red rose. Crafted from resin, with a removable stainless steel cup insert for easy cleaning, this goblet should give many years good service. The goblet stands approx 20cm tall.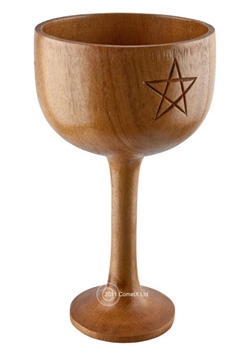 £13.97 incl tax
£19.96 incl tax
For those of you who prefer natural materials, we have this lovely, wooden chalice, decorated with and engraved pentagram on opposite sides of the cup. This lightweight chalice has been individually crafted, beautifully turned and waxed, bringing out the natural beauty of the wood. Chalice measures approx 15cm tall, with a cup diameter of approx 8cms.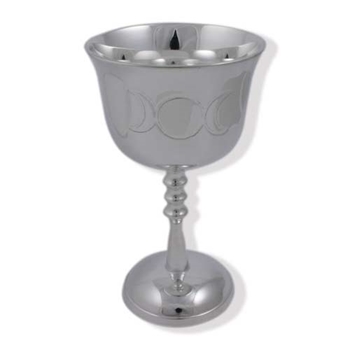 £13.90 incl tax
£19.85 incl tax
A necessary piece of pagan kit. This attractive ritual chailce is engraved with the Triple Goddess symbol on the front.