Stunning pewter jewellery from the Alchemy design studio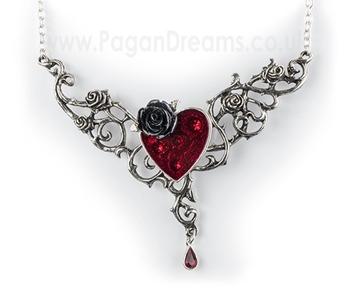 £25.19 incl tax
£35.99 incl tax
Love is never simple. A dark romance secretly blossoms from the life blood of a once broken heart; with Swarovski crystals set beneath the red enamel blood. An ornate pewter necklace of tangled rose thorns surrounding a transparent red-enamelled heart, set beneath with Swarovski crystals and surmounted by a black rose and finished with a blood red crystal dropper.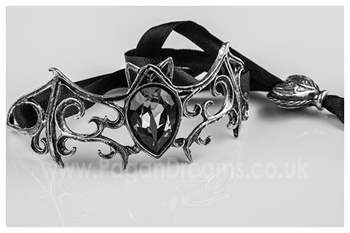 £16.09 incl tax
£22.99 incl tax
With a sparkling body of dark, cut crystal, the quintessential creature of the night, fashioned in opulent Renaissance scrollwork, defines the decadent streets of Europe's fabulous and most famous den of iniquity. A pewter bracelet in the form of an open, abstract, Baroque style bat with the body of a black diamond Swarovski crystal and fastened by a 7mm black satin ribbon with sliding pewter toggle.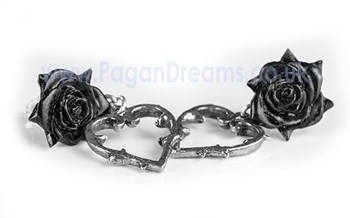 £10.49 incl tax
£14.99 incl tax
A rose is for love, but black is the colour of doom - a barbed and gaping hole is left, bleeding, where there was once a dark and mysterious romance... A black rose ear stud supports a free-moving, pewter, barbed heart. Presented in alchemy packaging which includes care instructions.